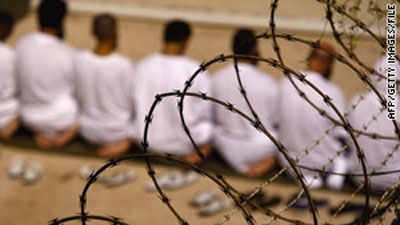 Guards at Guantanamo this morning conducted a pre-dawn raid of Camp 6, the communal housing block where most of the inmates are on a hunger strike. The purpose was to move the hunger-striking inmates to maximum security cells.
The detainees fought back. According to Guantanamo officials:
"Some detainees resisted with improvised weapons, and in response, four less-than-lethal rounds were fired," according to a statement issued by the prison camps at the U.S. Navy base in Cuba. "There were no serious injuries to guards or detainees."

…."In order to reestablish proper observation, the guards entered the Camp 6 communal living spaces to transition detainees into single cells, remove obstructions to cameras, windows and partitions, and to assess the medical condition of each detainee," the prison said.
Yesterday, Guantanamo's prison camp Commander was replaced. Read More