Dámaso López Núñez, aka "El Licenciado", a long-time higher-up in the Sinaloa Cartel, whose closeness to Joaquin "El Chapo" Guzman goes back to 2001 when he was a corrupt prison official who helped El Chapo escapte from Puente Grande, was first indicted in the U. S. in 2013. He recently pleaded guilty and is expected to testify against Joaquin "El Chapo" Guzman-Loera at El Chapo's upcoming trial.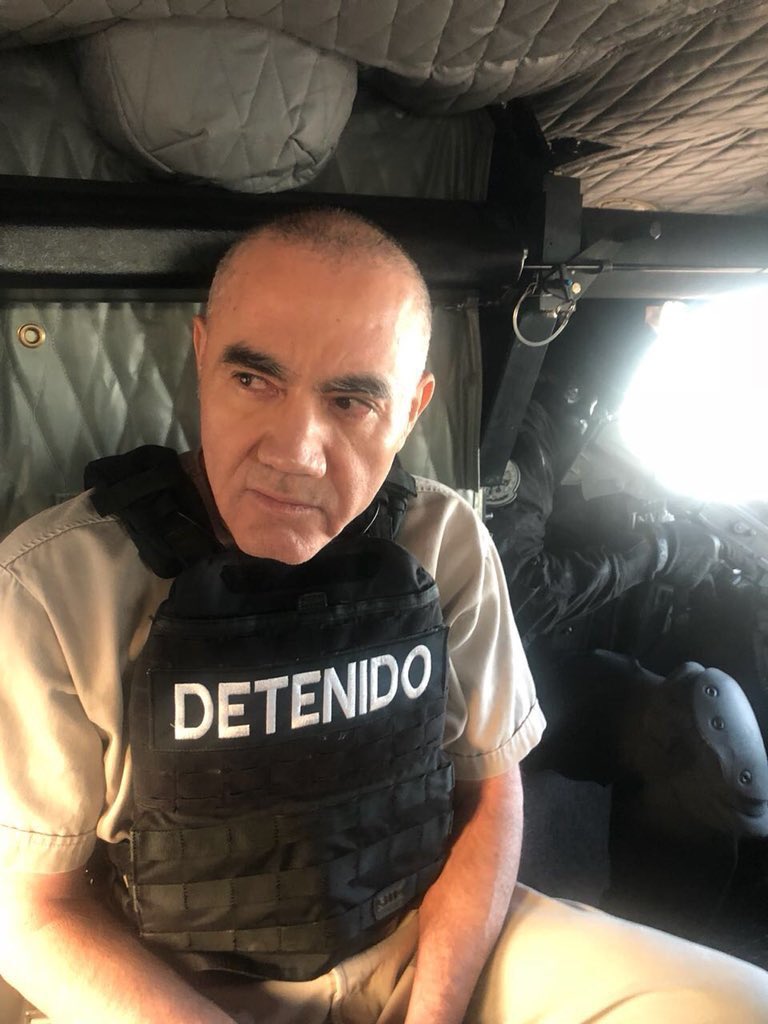 The most severe sentence that can be imposed on anyone who is extradited here from Mexico is life in prison. Mexico will not extradite anyone without an assurance the person will not be subject to the death penalty.
A life sentence in the federal system means just that: There is no good time reduction and there is no parole. If you have the misfortune of being sentenced to life in prison in federal court, you will be there until you die.
Defendants plead guilty for a variety of reasons. Usually it is in exchange for a promise for a lesser sentence, either through an agreement to plead to a lesser charge, or an agreement to cooperate against others.
Sometimes it's a gamble and the defendant loses. For example, Alfredo Beltran-Leyva, who was represented by two of the same lawyers now representing El Chapo, pleaded guilty to all the charges without a plea agreement (called a "blind plea"). The maximum sentence was life in prison. By pleading guilty as charged, he maintained his right to appeal his sentence and to request a lower sentence. He did not agree to a life sentence. He asked for 25 years. He lost the gamble, and the judge sentenced him to life in prison. His case is on appeal.
I don't think I've seen a plea agreement in a case in which the death penalty is not an option, where the defendant agrees to serve a life sentence. [Plea Agreement of Damaso Lopez-Nunez, Eastern District of Virginia, Case No. 16-cr-00300-TSE, Doc. 29 filed 09/28/18, page 5 of 11]
[T] he parties have no agreements as to the applicability or inapplicability of any other sections ofthe Sentencing Guidelines. The United States and the defendant agree to recommend, pursuant to 18 U.S.C. § 3553 and the Sentencing Guidelines, that the Court sentence the defendant to life imprisonment. The United States and the defendant understand that the Court is not bound by this agreement.
Could there be a hidden promise when the Plea Agreement also states:
This written agreement constitutes the complete plea agreement between the United States, the defendant, and the defendant's counsel. The defendant and the defendant's attorney acknowledge that no threats, promises, or representations have been made, nor agreements reached, other than those set forth in writing in this plea agreement, to cause the defendant to plead guilty.
Theoretically, yes, since the agreement also states:
Any modification of this plea agreement shall be valid only as set forth in writing in a supplemental or revised plea agreement signed by all parties.
It seems to me, no one in his right mind would agree to a sentence of life in prison unless it was to avoid the death penalty. Even in the age of the Donald Trump, a sentence to life plus cancer is not (yet) an option.
I think the Government, which drafts the Plea Agreement, is telling only half the story because it intends (albeit has not unequivocally promised) to request a big sentence reduction if El Licenciado pleases the Government with his trial testimony. In other words, El Licenciado may receive a life sentence, but there likely is a sealed supplement that promises he'll get a big sentence reduction if he tells the [Government's] truth at El Chapo's trial.
Let's wait and see.