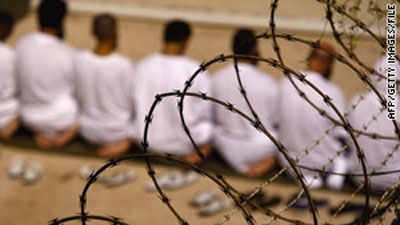 Guards at Guantanamo this morning conducted a pre-dawn raid of Camp 6, the communal housing block where most of the inmates are on a hunger strike. The purpose was to move the hunger-striking inmates to maximum security cells.
The detainees fought back. According to Guantanamo officials:
"Some detainees resisted with improvised weapons, and in response, four less-than-lethal rounds were fired," according to a statement issued by the prison camps at the U.S. Navy base in Cuba. "There were no serious injuries to guards or detainees."

…."In order to reestablish proper observation, the guards entered the Camp 6 communal living spaces to transition detainees into single cells, remove obstructions to cameras, windows and partitions, and to assess the medical condition of each detainee," the prison said.
Yesterday, Guantanamo's prison camp Commander was replaced.
Rear Adm. Richard W. Butler is now the 13th Commander of the Gitmo prison system.
The commander of the prison camps at Guantánamo runs what is known as a Joint Task Force, currently a 1,700-member staff that is made up mostly of U.S. Army Military Police, both active-duty and mobilized reservists, but also draws forces from the Navy, Marines, Air Force and Coast Guard as well as civilian intelligence employees and contractors.
It seems like Gitmo is rapidly becoming a cinderblock ready to explode.
Also this week, the Pentagon began advising Guantanamo defense lawyers if their clients are one of the hunger-striking inmates. Sami Mukbel of Yemen is one of them, and he was allowed to speak to his lawyer on Monday. He confirmed what the media has been reporting as the cause of the hunger strikes:
[Mukbel said he] has lost about 30 pounds since the strike began in February as a protest over indefinite confinement and what prisoners say are intrusive searches of their Qurans.
The Atlantic has an article on how Guantanamo helps al Qaeda recruit more terrorists. As to the numbers: Of the 166 prisoners being held at Gitmo:
86 have been cleared for release.
46 are being held "without enough evidence" to prosecute, but are still "too dangerous to transfer."
6 have been charged with a crime
Guantanamo is not only an indelible stain on America, it is a recuruitment tool for jihadist terrorists. Two years ago, CIA director John Brennan said:
"The prison at Guantánamo Bay undermines our national security, and our nation will be more secure the day when that prison is finally and responsibly closed."
In 2009, Gen. David Petraus warned:
I've been on the record on that for well over a year as well, saying that it [Guantanamo] should be closed. . . . And I think that whenever we have, perhaps, taken expedient measures, they have turned around and bitten us in the backside. . . . Abu Ghraib and other situations like that are nonbiodegradables. They don't go away. The enemy continues to beat you with them like a stick.
Colin Powell agreed, saying in 2010:
Powell said unless Guantanamo is closed, it gives "radicals an opportunity to say, you see, this is what America is all about. They're all about torture and detention centers." In Powell's words, the continuation of Guantanamo reinforces Al-Qaeda's "own positions."
Even crime-warrior Joe Biden said in 2005:
Guantanamo is the "greatest propaganda tool that exists for recruiting of terrorists around the world"
The military knows it. The world knows it. Only Congress still has its head in the sand.