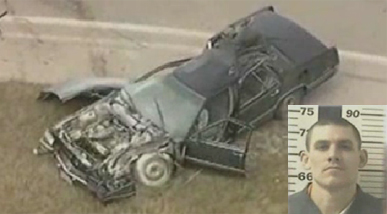 A suspect in the murder of Colorado prison chief Tom Clements has been killed in a shootout with Texas police. The suspect, a 28 year old white supremacist and parolee from a Colorado prison, was stopped by a police officer in Texas. He shot the officer and took off.
The officer was wearing a bullet-proof vest. Two shots were to the chest and did not injure him. The third shot grazed his head. He was able to radio in the car description.
According to a live news conference I just watched here, it was a a drug interdiction stop. The officer had no idea the driver might be connected to the Colorado shooting of Director Clements.
When officers in Wise County, TX spotted him, they tried to stop him and he stuck his gun out the window and started shooting. A high speed chase ensued, and a big 4-wheeler crashed into Ebel's car, setting it on fire. Ebel got out and started shooting at the officers. They shot him multiple times, including in the head.
Ebel was declared brain dead and put on life support so they could harvest his organs. Life support was then terminated and he's now dead.
Colorado authorities and forensic specialists are en route to TX to determine if they can tie Ebel to Clements' murder. They believe Ebel also shot a pizza delivery guy in Denver in Sunday. His shirt was found in Ebel's car. Also being investigated: Whether Ebel was acting on his own, or whether the prison gang had ordered a hit on Clements.
The local media has outraged the Muslim community by reporting at a Saudi inmate might be a suspect. The inmate has been moved to solitary for his protection.
Police are also investigating whether the shooter was answering a Craig's list ad Clements had posted that day to sell his bicycle. Clements had been using a cane the past few years due to a bike accident, and had decided to sell his bike. He put his name as "Tom" in the ad, and a phone number. Clements phone records are being examined to determine if he arranged for anyone to come by the house and look at the bike. (Wouldn't his wife or the family member who was home and called 911 to report Clements had been shot know whether someone was coming over to look at the bike?)
Bottom line: While it has not been confirmed that Ebel was the killer of Tom Clements, his ties to the pizza delivery man's murder seem strong . Nor has it been confirmed that Clements was the only target.
The US Attorney for Colorado John Walsh had his security detail beefed up at his house Tuesday night and was escorted to work Wednesday under armed guard.
Pictures of the car and shootout are in this video.